Choose your perfect server book that suits your needs!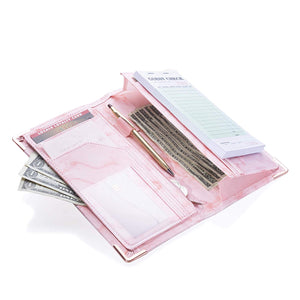 BACK IN STOCK!

11-POCKET SERVER BOOK WITH 2 EXPANDABLE MAGNETIC POCKETS - Flexibility at its finest. This ultimate 11-pocket server book has the flexibility, durability and convenience that all servers want in addition to the popular pink marble design pattern. With 2 expandable magnetic pockets and a zipper pocket, you can separate your most important assets making your organization easy and convenient.


VISIT PRODUCT PAGE
Featured collection - Favorites and New Arrivals!
---
It's a tool every server should have...
5 x 9 Tall Server Book with Magnetic Pockets!
For those servers requiring a bit more space, these server books contain 2 expandable magnetic pockets that allow you to separate your receipts and cash. Equipped with 11 total pockets, these are currently available in a size that measures 5 inches wide by 9 inches tall. These books currently come in a marble pattern design or plain colors. Choose your favorite now!
CHOOSE YOUR STYLE HERE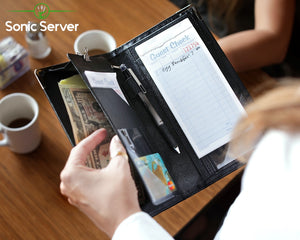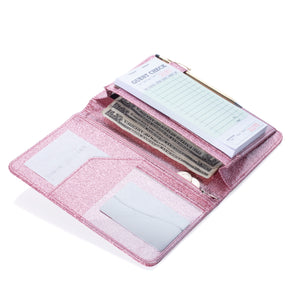 Pink Glitter Server Book with Expandable Magnetic Pocket inside
This sparkling and dazzling server book now comes with an expandable strong magnetic pocket inside for more storage space and a zipper pocket for coins. The size of this book is 5 inches wide by 8 inches tall.
SHOP NOW
Holographic Silver Server Book with 2 Magnetic Pockets!
Our newest holographic server book shimmers and shines with a variation of different colors! Featuring 11-pockets and a convenient size of 5 x 8, this server book includes 2 strong and secure expandable magnetic pockets inside! This style comes in multiple holographic colors! Look awesome while staying organized!
Choose your Color Here